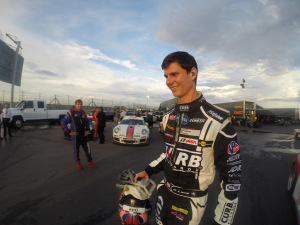 Laguna Beach, California — As the 2014 race season comes to a close, the IMSA Porsche GT3 Cup Challenge USA by Yokohama championship chase is tight as Michael Lewis currently stands in second place, only one point behind first.
The final two rounds of the 2014 season will take place at Road Atlanta in Braselton, Georgia, as part of the Petit Le Mans, October 1–3. Although Michael has never previously competed on the 2.54-mile road course, that doesn't deter him, especially after earning first- and second-place finishes his first time competing at Circuit of The Americas during the last two races.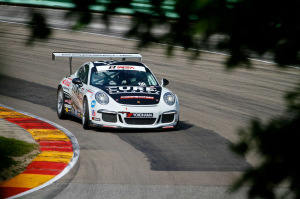 Michael is eager to visit this historic track as part of the Petit Le Mans, which will also feature the TUDOR United SportsCar Championship and Tequila Patrón North American Endurance Cup season finale. "Road Atlanta is always the finale for all of American road racing, so it's kind of a 'showdown' style event with championships to be decided in all categories," explained Michael Lewis. "The track looks aggressive, fast and it has that 'East Coast' style of kerbing, asphalt, elevation and run-off area. It is a really beautiful track to be honest."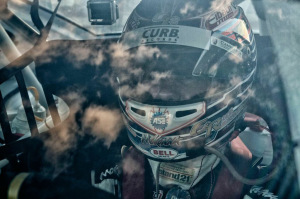 Michael added, "It would be special to give my sponsors and my team members of the No. 98 Competition Motorsports/Curb-Agajanian Porsche 911 another couple of pole positions and wins. It will be a battle during these last two sprint races, but that is to be expected. Once the final checkered flag is waved, then we will see the result. For now, our team looks to have fun and work in the way that we know to bring home solid results in Atlanta. Good luck to all of our competitors in Atlanta as well. There have been great racing moments with all of our competitors throughout the season."
So far, Michael has earned four wins and eight podiums during his rookie season in the IMSA Porsche GT3 Cup Challenge USA by Yokohama. He has 217 points in 14 rounds of the series, with only Colin Thompson ahead of him in the points standings with 218 points.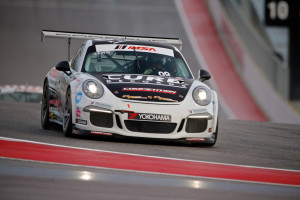 "In terms of the season, it has been a wonderful year working with all of my sponsors and with team owner Bob Faieta, my mechanic 'D,' and every single member of the Competition Motorsports/Curb-Agajanian team: Brad, Alan, Joe, May, Steve, Franky G, Jessy, Armond, Mark, and everyone who pitches in to make this team a success," said Michael. "I would also like to thank my amazing teammates: David Calvert-Jones, Fred Poordad, Blair Chang, Mike Mc Alister, Alessandro Chiocchetti, Steve Goldman, Chris Pedersen and Michael Zuieback for some great, competitive racing on the track—it has been fun to race with them."
The schedule for the concluding Rounds 15 and 16 is as follows:
Wednesday, October 1
Practice 1: 9:30 a.m.–10:00 a.m ET
Practice 2: 1:40 p.m.–2:20 p.m. ET
Thursday, October 2
Qualifying: 8:35 a.m.–8:55 a.m. ET
Race 1: 3:35 p.m.–4:20 p.m. ET
Friday, October 3
Race 2: 11:35 a.m.–12:10 p.m. ET
Live timing and scoring during practice and qualifying will be available at www.imsa.com, while live coverage of the races will also be available at the website.