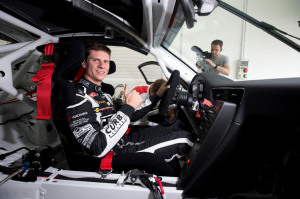 Laguna Beach, California — American Michael Lewis joined eight other drivers from a total of eight countries as they competed for the chance to win a €200,000 scholarship to race in the Porsche Mobil 1 Supercup series in 2015.
Porsche Motorsport North America nominated Michael to participate in the 2014 Porsche International Cup Scholarship test due to his phenomenal rookie season in the IMSA Porsche GT3 Cup Challenge USA by Yokohama where he finished third and earned Rookie of the Year honors.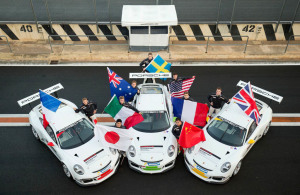 Michael flew to Valencia, Spain, where he participated in the two-day process on September 29 and 30, that not only judged the participants on their driving skill, but also their character as a driver. In addition to winning the scholarship, the winner will receive a professional coach who offers advice regarding fitness level, psychological training and media relations at all rounds of the Porsche Mobil 1 Supercup, which runs as a support series to Formula 1.
Michael first thanked his Competition Motorsports/Curb-Agajanian team owner Bob Faieta for the opportunity to compete in the IMSA Porsche GT3 Cup Challenge USA by Yokohama in 2014. "After all, it was Bob's Competition Motorsports/Curb-Agajanian team that put me in the position to get great results to be invited to this shootout for a potential Supercup 2015 scholarship," explained Michael Lewis. "It was an honor to represent the IMSA Porsche GT3 Cup Challenge USA by Yokohama and the Los Angeles-based Competition Motorsports/Curb-Agajanian team overseas. Being in the company of the factory Porsche Motorsport engineers and personnel was a result of all the people back in the US who supported my driving career, including great sponsors such as Curb Records, Eibach, Cometic Gasket, ASE, C&R Racing and McKenna Porsche to name a few. I hope that I can bring them the gratitude and recognition that they deserve, and it was great to represent USA among the international countries! I put in my best effort on and off the track, and we will see the result in the approaching weeks. Thank you to Porsche for this experience, and surely the experience gained from this shootout will help for the future."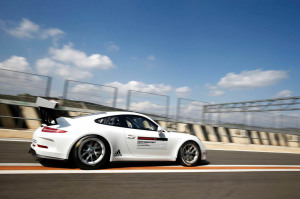 Porsche Motorsport has a long tradition of using the International Cup Scholarship shootout to offer drivers the opportunity to advance from the worldwide Porsche Carrera Cup and Challenge series into the international Porsche Mobil 1 Supercup and beyond. Perhaps a driver can make it to the professional segment of motorsports, such as a works driver.
"I would also like to thank IMSA, Porsche Motorsport North America and Yokohama Tire for inviting me to participate in the 2013 Porsche Young Driver Academy," said Michael. "This academy definitely helped me prepare for the 2014 International Cup Scholarship as there were many similarities between the two tests. If anything, being under pressure to perform was present and it's good to experience that when you can.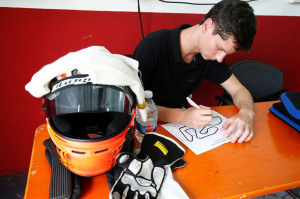 "In addition, I would like to thank all of my sponsors Curb Records, Eibach, Cometic Gasket, ASE, C&R Racing, McKenna Porsche of Southern California, Camisasca Automotive Mfg., The Smile Generation, Ed Pink Racing Engines, Buwalda Construction, Laguna Classic Cars and Automotive Art, Mönik, Performance Racing Tech-Talk, Realatrends, RFMS Racing, Mr. Paint Inc., Burger King, Val Lambros M.D., F.A.C.S., Surterre, Klotz Synthetics, Coast Fabrication, GoPro, Racing Electronics, Bell Helmets, Racing Goes Safer Foundation, SAC Design, CXC Simulations and JDR Graphics."
To see an exclusive, behind-the-scenes video from Porsche, click on the following link: http://vimeo.com/m/107939244